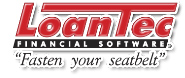 About LoanTec Software
LoanTec began in early 1996 with the sole purpose to develop better and more dependable small loan software based on a true Windows platform that would be dependable for us and other small lenders.
Since we are actually in the loan business and understand the real world problems that small lenders face, we wrote it from a lenders point of view while making it solid, powerful and fast. Using our own dedicated programmers, we built LoanTec's engines to run quietly behind the scenes. LoanTec makes you feel comfortable and in control. Simply click the mouse or press the keyboard for instant reports, note and payment handling, customer contacts, and financial transactions. LoanTec is a complete program that handles payroll, full accounting, employee activity, and much more!
LoanTec is the newest generation of software for small loans and has become the standard small lenders look to for complete and total control over their entire operation, whether 1 office or 500 branch offices.
Today, even though LoanTec is now used in multiple states, a real live person usually answers when you call for information or support. It's really quite simple. With LoanTec, just expect much better software and a higher level of personal support. It's your ticket to greater success!
9:00 AM – 5:30 PM • Monday – Friday • Central Time • USA • 830.896.7107
info@loantec-software.com