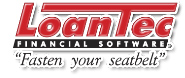 Pricing Summary
For qualified, licensed lenders, there is no "Purchase" or "Upfront" cost for LoanTec Software. You simply receive from us a license (See "License Agreement") to use the software and pay a monthly support fee. The fee includes the software, initial training, all upgrades, and unlimited phone support.
Per office monthly license fee is $260 and includes 1 workstation connection to the software. For additional concurrent terminal connections, add $20 each.

Discounts are available up to 27%, based on the number of offices using LoanTec and the operating system used.

For multiple offices using LoanTec, a "Home Office" program is provided at no cost. Learn more in next paragraph.
LoanTec Home Office Management System:
For multiple offices using LoanTec, a "Home Office Management" program is available and is currently at no cost. (Requires Microsoft Windows Server and Terminal Services) This combines all branch offices into one program for auditing and reporting purposes. The Home office also stores all branch office details, default settings and employee information. For example, If you make a change in your standard procedure or operating manual, simply change it in the home office and the change is made in all branch offices, regardless if 2 offices or 500 offices. The routine is totally automated and allows the user to see all transactions, including loans and payments for each account. For large companies with multiple locations, branch offices can be divided into districts or even by state, which allow better management of resources. The Home Office system is generally used by supervisors, owners, and accountants to review the overall operations.
LoanTec Free Version:
A Free "No Support" Version is available from time to time. It's the same powerful program as above, but with most tools and features unavailable. Support is generally on a limited basis or not provided. You can enter accounts, make loans, take payments, and generally run your loan office at the same level offered by other software programs. Contact LoanTec support.
Electronic Data Conversion from other software programs into LoanTec is usually available, depending on which software you want to convert from. There is a fee for this. Contact LoanTec support.
If you're new to the lending business, LoanTec offers a basic 3-5 day very intense training course in one of our live loan offices. You'll learn filing, reading credit reports, processing loan applications, how to make loans, take payments and much more …..as well as learning how to use LoanTec. Contact LoanTec Support for more information.
To view and download more details, click here.

9:00 AM – 5:30 PM • Monday – Friday • Central Time • USA • 830.896.7107
info@loantec-software.com